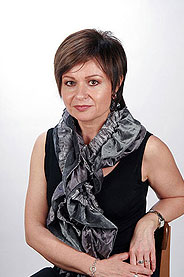 Marina Rodríguez-Cusí
Mezzosoprano
Born in Siete Aguas (Valencia), she studied at the Conservatorio Superior de Música in Valencia, where she specialized in Oboe. Later on she studied Chant with Ana Luisa Chova, being awarded the Graduation Prize of Honour

She was been awarded "Eugenio Marco" in Sabadell, "Festival Lírico in Callosa D'Ensarriá", International Prize "Música Española en Compostela" and the "Francisco Viñas" International competition in Barcelona.

Upon her debut with (Cherubino) Le Nozze di Figaro at Palau de la Música in Valencia, she stars and intense career in the opera, performing among other roles: (Ottone) L'Incoronazione di Poppea, (Cornelia) Giulio Cesare, (Disingano) Il Trionfo del Tempo e del Disinganno, (Polinesso) Ariodante, (Madame La Rose) La Gazzetta, (Pippo) La Gazza Ladra, (La Marchesa Melibea) Il Viaggio a Reims, (Smeton) Anna Bolena, (Suzuki) Madame Butterfly. (Romeo) I Capuleti ed i Montecchi, (Olga) Eugene Onegin, (Zia Principesca) Suor Angelica. (Siebel) Faust, (Bersi) Andrea Chénier, (Azucena) Il Trovatore, (La belle) La Belle et la Bête, Tancredi, La Zorrita Astuta, Otello, Das Rheingold, Götterdämmerung, Der Fliegende Höllander, Salomé, Der Rosenkavalier, Die Fledermaus, at: Teatro Real in Madrid, Gran Teatre del Liceu in Barcelona, Arriaga and Euskalduna in Bilbao, Palacio de la Ópera in La Coruña, Kursaal in S. Sebastián, Campoamor in Oviedo, Gayarre in Pamplona, Maestranza in Sevilla, Auditorium Palma de Mallorca, Villamarta in Xerez, Cervantes in Málaga, Miguel Delibes in Valladolid, Golden in Palermo, Alte Oper Frankfurt, etc.

She has performed (Zenobia) Radamisto by Haendel at the Concertgebouw in Amsterdam and Musikverein in Viena, directed by M .Haselböck. (Hermia) A Midsummer Night's Dream and (Ottavia) L'Incoronazione di Poppea at the Staatsoper in Hamburg directed by Simone Young and A. de Marchi, (Ericlea) Il Ritorno d'Ulisse in Patria at Salle Pleyel in Paris directed by William Christie, (Messaggiera) L'Orfeo by Monteverdi at Festival Perigord France, (Rosmene) Il Prigioner Superbo at Festival Pergolesi-Spontini in Jesi Italia.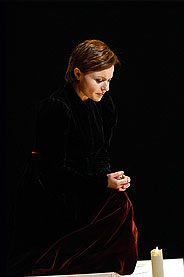 In Oratorio-Concert she performs plays like: Stabat Mater by Pergolesi, Weihnachts-Oratorium , Johannes - Passion and Magnificat by Bach, The Messíah by Haendel, Juditha Triumphans and Gloria by Vivaldi, Requiem by Mozart, Petite Messe Solennelle by Rossini, Sommernachtstraum, Lobgesang, Die Erste Walpurgisnacht by Mendelssohn, Requiem by G. Verdi, Te Deum and Réquiem en rem by Bruckner, Kindertotenlieder and Das Lied von der Erde, Sinfonía n.º 2 de Mahler "Auferstehung", Mass en D,Op.86 y Stabar Mater by Dvorak, Sinfonia n.º1 "Lamentation de Jeremiah" by Bernstein. Los Ángeles by R. Chapí, La Damoiselle Elue and Le Martyre de Saint Sébastien by Debussy, El Amor Brujo and El Sombrero de Tres Picos by M. de Falla, Alegrias by García Abril, Philistaei a Jonatha Dispersi by Martín y Soler, Pulcinella by I. Stravinsky, Alexander Nevsky by S. Prokofiev and Pierrot Lunaire by A. Schönberg, Las Canciones Negras by Montsalvatge, at: Auditorium Parco della Musica di Roma, Teatro Monumental and Auditorio Nacional in Madrid, Palau de les Arts in Valencia, Palau de la Música and Auditori Principal in Barcelona, Auditorio Manuel de Falla in Granada, Zipper Concert Hall and Schoenberg Hall in Los Ángeles, etc.

She takes part at the Première of El Mar de las Sirenas by Báguena Soler and Maror by M. Palau at Palau de la Música in Valencia, Los Pirineos and La Celestina by F. Pedrell at Gran Teatre del Liceu in Barcelona, La Casa de Bernarda Alba by M. Ortega, Compendio Sucinto de la Revolución Española by R. Garay together with Grande Chapelle, Y en un instante todo fue silencio by Tomás Marco, Divinas Palabras by A. García Abril at the reopening of Teatro Real in Madrid. She sings at the opening ceremonies of Gran Teatre d'Elx, Palau de les Arts Reina Sofía in Valencia directed by Lorin Mazel.

At Teatro de la Zarzuela in Madrid she has sung Doña Francisquita (Aurora la Beltrana), Pan y Toros (Princesa de Luzán), Los Diamantes de la Corona (Diana), La Calesera (Elena), La Revoltosa (Soledad y Mari Pepa), La Montería (Ana) and the Palacio de Carlos V in Granada La Tempranica (Grabié, Gitana, Pastora) and Cecilia Valdés (Dolores e Isabel) , Pepita Jiménez by I. Albéniz etc.

She has directed by: Manuel Galduf, Ros Marbá, Sergiu Comissiona, Alberto Zedda, Walter Weller, David Parry, Peter Maag, A. Allemandi, Marco Guidarini, Franz-Paul Decker, J. A. García Navarro, M. A. Gómez Martínez, Josep Pons, Salvador Más, Víctor Pablo, José Collado, A. Lombard, Ralf Weikert, Pascual Osa, García Asensio, J. Mena, Eric Hull, Edmon Colomer, M. Haselböck, Angelo Cavallaro, M. Barbacini, John Nelson, Plácido Domingo, Lorin Mazel, Pinchas Steinberg, Petr Kofron, J.R. Encinar, Yaron Traub, Andrea Marcon, Corrado Rovaris, Miguel Ortega, Cristóbal Soler, Álvaro Albiach, Ottavio Dantone, Marzio Conti ,José de Eusebio, Vasily Petrenko, Andriy Yurkevych, Ólivier Díaz, M. Roa, Matthias Bamert, Antoni Wit, Carlo Rizzi and Patrick Fournillier.

She has recorded (several) CD's. El Sombrero de Tres picos for Warner with Orquesta Filarmonía de Canarias. DVD Il ritorno d'Ulisse in patria directed by William Christie and Les Arts Florissants. DVD Tres sopranos con la Zarzuela with Orquesta Filarmonía of Madrid. DVD of The Sly Vixen by L. Janàcek directed by Kent Nagano animated Spanish-Catalan version.

CD Mass in D, Op.86 A. Dvorak, Naxos, ORQUESTA SINFONICA DE NAVARRA, Dir. A. Wit

CD LA ISLA DESOLADA Cantata T. Marco,Ibs classical, Dir. J. Ramón Encinar



Marina Rodríguez Cusí CV PDF Format
---